A salwar kameez for women has always been an integral part of Indian attire, allowing women to don a stunning and appealing ethnic look with utmost comfort. When we talk about shalwar kameez women, it means the dress material before its tailoring is done. We can say that an unstitched cotton salwar suit with dupatta is a collection of three separate pieces, the salwar, kameez and dupatta. Unlike the past when you had to visit the local market to shop for clothing, you can now buy unstitched cotton suits online and there are many benefits to doing so. Here are some of them.
Stitch It The Way You Want To - One of the most important reasons that many women across India and the world prefer shopping for unstitched salwar kameez online is that they can be easily customized as per your exclusive taste. For example, you can design its sleeves, neck, back and more as per your specific taste. At the same time, you can also enjoy the freedom of stitching a salwar or a plazo or pant using the material. So when you buy unstitched suit fabric, you can tailor it according to your requirements, body type, and style. Your tailor can help with this or even you can try your stitching skills, if you have, to try something new with the unstitched material.
It Is More Cost-Effective - Are you a bargain buyer and would like to feel the class without spending a fortune on buying a salwar kameez online? If yes then you can have a chance to steal a real deal with an unstitched cotton salwar suit with price that also fits your budget. Buying unique items online can be very expensive, but you can save over 70% on the deal by simply going with an unstitched material for salwar and kameez. You can easily mix and match different kinds of fabric styles. You can shop in a wide range of varieties that are made of premium fabrics like Banarasi silk, zari woven silk, brocade, Tussar silk, etc.
Experiment with your Dress Material - Buying unstitched cotton suits online is always the first choice of women who love to try something new and do not prefer wearing what the others are having in their collections. This is because the unstitched materials give you the flexibility to experiment with it and create something new and exclusively yours. You can customize each aspect of the suit material as per your choice. Unlike the stitched suits, you do not need to settle with the existing neck design or bottom type. You can change the design, choose the length as well as do a lot more. There are 100s of necklines that you can experiment with like v-neck, round neck, cowl neck, boat neck, square beck, deep neck, so why not try something new?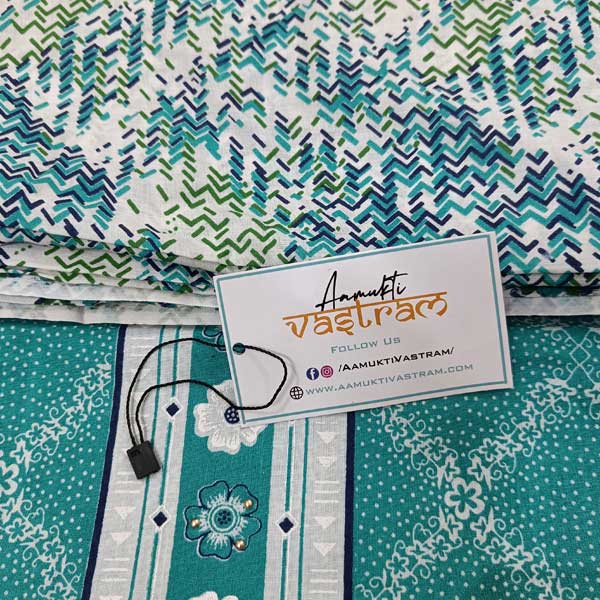 A wide variety in prints and embroidery - The best part about shopping for an unstitched cotton salwar suit with dupatta online is that you can have access to the alluring prints and designs. They are available in a wide range from digital prints to floral, checkered, and the ones with linings. For a heavy and elegant look, you can go with velvet or silk. On the other hand, you also go with intricate and delicate embroidery work, studded with stones, pearls, diamonds, and more. 
Mix And Match The Fabric - It's not mandatory that you will like the combination of salwar and kameez when shopping for a suit, online or offline. But when you are flexible to go with unstitched cotton suits online, you can have the option to shop for kameez fabric and bottom fabric as per your own choice and taste to come up with something exclusive. Just imagine; you're wearing a new salwar kameez that you have designed as per your colour combination preference and everyone starts admiring your taste. It's sure the best feeling anyone can have in the world.
Frequently Asked Questions
Which fabric is best for a party wear suit?
The options for party wear suits are endless. You can shop Net Fabric, Royal Banarasi Cotton Silk, Linen Salwar Suit Material, Pure Silk, Churidar Chiffon, Crepe Churidar, etc.
How do you know if a salwar kameez fabric is of good quality?
The best way to ensure the quality of the unstitched cotton salwar suit with dupatta is to check reviews of the product purchased from past buyers so you have a good idea about the quality you can expect.
Which is better cotton or wool?
They both have their own specific uniqueness and benefits. Since cotton is a lightweight material that absorbs sweat better, it is better for summers. On the other hand, wool material is a good choice when you want to retain warmth. 
How many meters of cloth is required for a kameez?
This is very confusing for women who buy salwar kameez online for the first t
ime. Well, the ideal length of a kameez material should be calculated as per the size of an individual. For example, if you are going to us 36″ wide fabric for a longer length dress then it is suggested to go with at least 5 yards of fabric. For wider 60″ fabric opt for 3 yards.
Final Words
So, we're sure that you have a good idea about the reasons behind the growing popularity of unstitched shalwar kameez women materials. In India, shalwar kameez is the most-worn attire and when you want to look your best, it always makes sense to try something new and exclusive, which is only possible when you get the unstitched cotton suits online and design it as per your own preferred taste, fit and style. Readymade suits may make you look good, but unstitched suits that you will get stitched as per your taste will be the best.