When it comes to winter wardrobe collections, our prime goal is always to protect ourselves from chilling winters. But does it mean that you can't play around with your office wear to look stunning during the cold weather conditions? Well, it's just not true as you can go comfortable as well as look your best with these amazing outfit ideas for dressing professionally in the workplace or going casual at a party.
The best ideas about winter work outfits 2022
Add a Topcoat to Any Outfit - If you have been watching Hollywood movies and feel nervous about trying the fashion trends being followed in the West, then you can go safe with a simple addition of Topcoats to your professional outfits. And the best part is that topcoats are not just for men, they also look good when worn carefully by women too. In fact, they make the best winter formal wear for the office as well as a fun evening. Make sure to play smart with other clothing you are wearing. For example, you can try a basic cashmere sweater and paper bag pants to look your best in a topcoat. The chocolate brown ankle boots ground the outfit and keep it from feeling too heavy or dark.
Matching Shoes and Bag - Another best way for dressing professionally in the workplace is to match your long casual shoes with the bag you carry. One thing to notice here is that this combination is not professional winter wear, but more on a casual side, so make sure to play smart with this. You can add some casual elements such as a nicer sweater, medium wash jeans, and cognac brown ankle boots and the coordinating tote.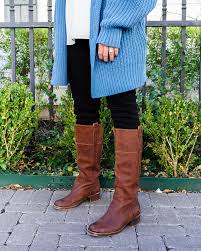 Long Cardigan + Tall Boots - Have you been always wanting to try something cool like wearing a cardigan at work, but feared trying something new? Here is a combination of outfits for office wear that will surely fit your style. So, this winter, you can try a combination of a chunky knit cardigan with tall boots. Additionally, you can also try layering sweaters to maximize comfort and warmth. For example, a thin merino wool sweater works perfectly under a chunky knit cardigan with brown tall boots.
Opt for Sweater Blazers - For a long time, blazers have always been the perfect fit for professional wear and casual outfits. In 2022 also, you can make it a part of your winter work outfits. So, try a typically structured wool blazer for a smart casual workplace. You can also layer the blazer over patterned tops and shirts to make it look like winter formal wear for the office.
Some Common FAQs about professional winter wear.
I fear trying something new. How should I go about it?
If you are planning to try something new for outfits for office wear, it is suggested that you go safe and don't use something that is very trendy or stylish. Go simple with what looks best on you. This way, you can be sure to not spoil your looks or become a laughing stock at the workplace.
What to wear to work as I am pear-shaped?
For those who are in pear-shaped condition, then you can try long hip-covering cardigans or jackets. To make the combination even better, you can even pair them with matching fitted trousers and a light-colored blouse for a monochromatic look.
They say blazers are boring. Is it so?
This is just not a fact as blazers have always been the coolest choice for people looking for the best winter formal wear for the office. So, you can try a blazer with your top or jeans pant without any worries.
Final Words
We hope this quick rundown of professional winter wear is helpful to you. In case you are trying something new, make sure to go safe and opt for only what you have tried before.